What is a Subsidiary Rate?
In some cases, normal rate copying is not enough. With simple copying, the rate is copied completely, including prices, conditions and restrictions, etc. At the same time, the copied rate will not be associated with the original in any way. A subsidiary rate is dependent on its parent, i.e. if you change Prices, restrictions and limitations or room availability in the original rate, they will change in the subsidiary rate too. However, changing the parameters in the subsidiary rate will not affect the parent tariff at all.
Creating a Subsidiary Rate
To create a subsidiary rate, you need to enter the Rooms and Rates / Rates section in the main menu on the left. Then in the rate list click on the button Create Subsidiary Rate in front of the needed rate's name.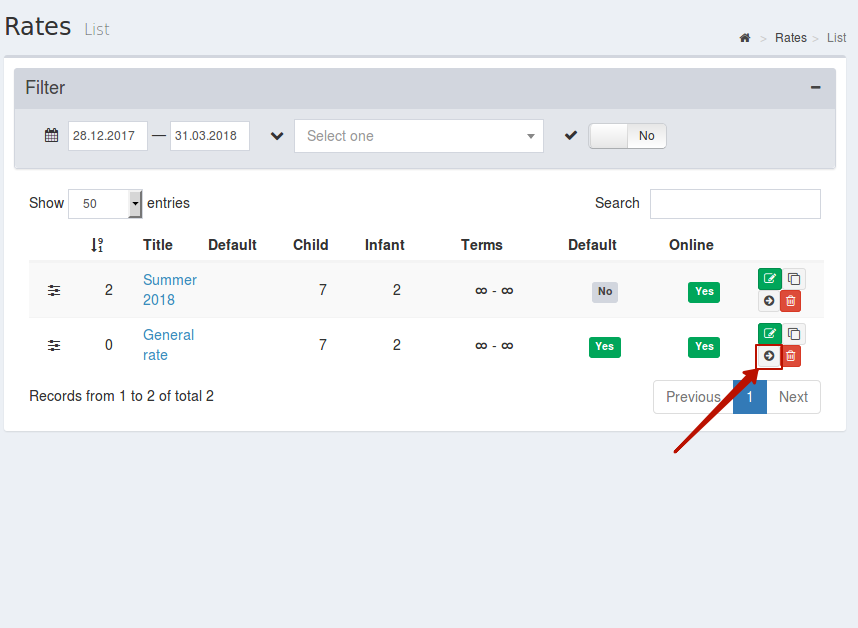 After that you will immediately go to the rate editing window. In a subsidiary rate all settings will be the same as in the parent rate, except for the name (Subsidiary Rate will be added to its name). The only thing you need to do is set the duration time of the rate in Conditions and Limitations. A new Heritage tab will be added in the top of the screen.
Here you can choose which of the main rate parameters will be changing in the subsidiary rate when they change in the parent rate. Set the switch to Yes or No if you want a subsidiary rate to inherit Prices, Restrictions, Limitations and Room availability from the parent rate.
Important! After filling in all the fields, do not forget to save the changes.
After that, the rate will appear in the rates table and the parent rate will be displayed in the Default column. At the same time, in other aspects the subsidiary rate will acts just like any other rate.